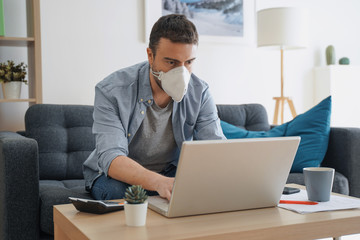 In 1348, the bubonic plague, or Black Death, jumped from Sicily to the Italian mainland and created an unprecedented wave of death and destruction that lasted until 1353 (and beyond with recurrences as late as the 1800s!) Besides the terrifying toll in human lives (nearly 50% of the
population of Europe at the time and even some cities completely disappearing), society as a whole was deeply transformed. The current COVID-19 crisis has, fortunately, thanks to modern medicine and preventative measures, not been even a fraction as deadly. However, the economic transformations risk being nearly as deep as those following the crisis nearly 700 years ago.
Before 1348, Siena was one of the largest, most prosperous cities in Italy with about 120,000 inhabitants, the same as their rival Florence. By 1400, Siena had been reduced to about 25,000 inhabitants due to the plague and its aftereffects. Siena's population never again reached the pre-plague numbers, today she has around 50,000 inhabitants. However, as the Renaissance started in Florence at the dawn of the fifteenth century, a different but longer-lasting revolution was underway in Siena: the invention of modern banking. In hard-hit Siena, several businessmen decided that rather than just sitting on benches ("banco" or "banks") at the marketplace changing and selling currencies, they could actually hold people's money for them and issue letters of credit which made transportation much less perilous and the management of money more plague-resistant. The Banca
Monte Dei Paschi di Siena (Bank of the Mount of Piety of Siena) is the world's oldest bank founded in 1472 by the powerful Piccolomini family. Many other Sienese nobles followed suit and this in turn made Siena one of the richest cities in Tuscany.
As we recover from COVID, we will find that social distancing will become part of the fabric of our daily lives. We will all need to learn how to work remotely, to sell without actually holding an in-person sales meeting, to take training online, in a word, to work autonomously. Cloud technology will be central to this transformation in transforming manual processes into digital ones.
The digital transformation journey will vary from organization to organization. The longer, more tedious journey will belong to organizations that move from a manual operational state to a digital operational state transforming past, current, and future processes towards automation in its purest form. This will be particularly challenging for paper documentation as organizations move to reorganize their past to a relevant future where team members can truly work autonomously, and information can be garnered virtually rather than physically.
One company with an innovative solution to document and content transformation is Qore8. Transforming paper to digital information in secure cloud storage and adding OCR to create searchable content is just the tip of the iceberg in terms of the solutions they provide. If the document needs to be archived at the end of its lifecycle, this is another built-in feature of the
solution.
Organizations with a shorter journey may need to automate their external collaboration processes. Qore8 provides a modern solution for users to collaborate with external stakeholders through the lens of their business platform. For example, Qore8, a partner of Dassault Systèmes' 3DEXPERIENCE platform, works with organizations to reduce siloed information, organizing and maintaining content within their core platform.
We also have world-class technology for automating the digital transmittal process for getting heterogenous packages of documents, models, and specifications from OEMs to suppliers and back. Our team has over 20 years of experience and a world-renowned reputation for extraordinary customer service.
Just like Siena bounced back economically and transformed how we view and manage money, the manufacturing industry will also bounce back and transform how we work. Solutions like QueLogic or ConvertLogic are essential to aiding this critical transition towards fully implementing the digital thread.
The only way to speed up is to keep up.
Are your processes keeping up with the digital age?
Learn how Qore8 solutions will empower digital transformation at your organization. 

THE SMART, SECURE CORE OF
DIGITAL TRANSFORMATION