Find a solution
that works best
for you
Find a solution that works best for you
Business Logic & Compliance Solutions
INTELLIGENTLY CREATING SECURE DIGITAL ASSETS

Collaboration Solution
SECURE, TRACEABLE SHARING OF DIGITAL ASSETS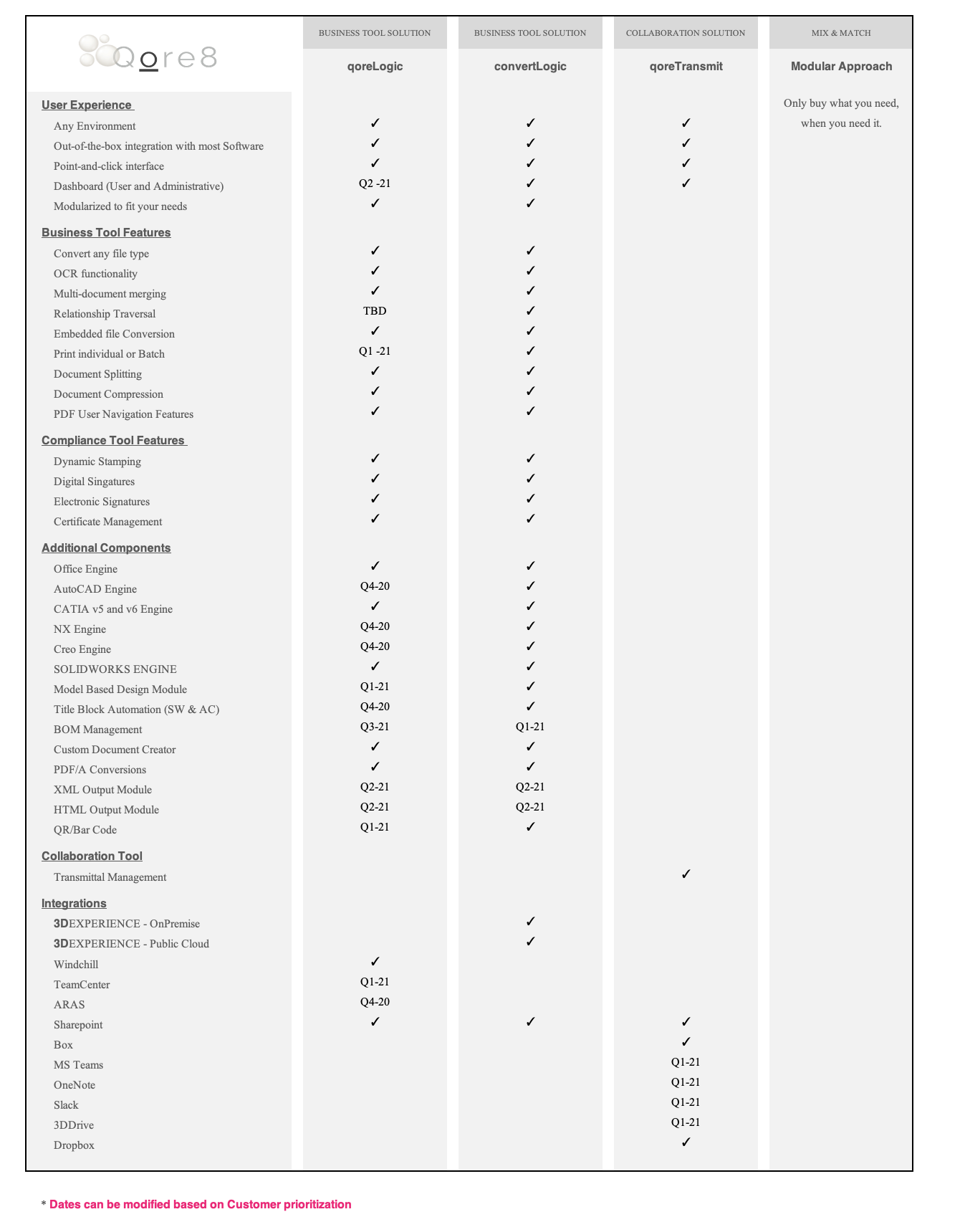 USER EXPERIENCE
Any environment
Out-of-the-box Integration with most software
Point-and-click interface
Dashboard (User & Administrative)
Modularized to fit your needs
BUSINESS TOOL FEATURES
Convert any file type
OCR functionality
Multi-document merging
Relationship traversal
Embedded file conversions
Print individual or batch
Document splitting
Document compression
PDF user navigation features
COMPLIANCE TOOL FEATURES
Dynamic stamping
Digital signatures
Electronic signatures
Certificate management
ADDITIONAL COMPONENTS
Office Engine
AutoCAD Engine
CATIA® v5 & v6 Engine
NX Engine
Creo Engine
SOLIDWORKS® software
Model Based Design Module
Title Block Automation (SW & AC)
BOM management
Custom Document Creator
PDF/A Conversions
XML Output Module
HTML Output Module
QR/Bar code
COLLABORATION TOOL
Transmittal management
INTEGRATIONS
3DEXPERIENCE® - OnPremise
3DEXPERIENCE® - Public Cloud
Windchill
TeamCenter
ARAS
Sharepoint
Box
MS Teams
OneNote
Slack
3DDrive
Dropbox
BUSINESS & COMPLIANCE
USER EXPERIENCE

Any environment

✓

Out-of-the-box Integration with most software

✓

Point-and-click interface

✓

Dashboard (User & Administrative)

Q2 '21

Modularized to fit your needs

✓
BUSINESS TOOL FEATURES

Convert any file type

✓

OCR functionality

✓

Multi-document merging

✓

Relationship traversal

TBD

Embedded file conversions

✓

Print individual or batch

Q1 '21

Document splitting

✓

Document compression

✓

PDF user navigation features

✓
COMPLIANCE TOOL FEATURES

Dynamic stamping

✓

Digital signatures

✓

Electronic signatures

✓

Certificate management

✓
ADDITIONAL COMPONENTS

Office Engine

✓

AutoCAD Engine

Q4 '20

CATIA® v5 & v6 Engine

✓

NX Engine

Q4 '20

Creo Engine

Q4 '20

SOLIDWORKS® software

✓

Model Based Design Module

Q1 '21

Title Block Automation (SW & AC)

Q4 '20

BOM management

Q3 '21

Custom Document Creator

✓

PDF/A Conversions

✓

XML Output Module

Q2 '21

HTML Output Module

Q2 '21

QR/Bar code

Q1 '21
COLLABORATION TOOL

Transmittal management

add-on
INTEGRATIONS

3DEXPERIENCE® - OnPremise

3DEXPERIENCE® - Public Cloud

Windchill

✓

TeamCenter

Q1 '21

ARAS

Q4 '20

Sharepoint

✓

Box

MS Teams

OneNote

Slack

3DDrive

Dropbox
BUSINESS & COMPLIANCE
USER EXPERIENCE

Any environment

✓

Out-of-the-box Integration with most software

✓

Point-and-click interface

✓

Dashboard (User & Administrative)

✓

Modularized to fit your needs

✓
BUSINESS TOOL FEATURES

Convert any file type

✓

OCR functionality

✓

Multi-document merging

✓

Relationship traversal

✓

Embedded file conversions

✓

Print individual or batch

✓

Document splitting

✓

Document compression

✓

PDF user navigation features

✓
COMPLIANCE TOOL FEATURES

Dynamic stamping

✓

Digital signatures

✓

Electronic signatures

✓

Certificate management

✓
ADDITIONAL COMPONENTS

Office Engine

✓

AutoCAD Engine

✓

CATIA® v5 & v6 Engine

✓

NX Engine

✓

Creo Engine

✓

SOLIDWORKS® software

✓

Model Based Design Module

✓

Title Block Automation (SW & AC)

✓

BOM management

Q1 '21

Custom Document Creator

✓

PDF/A Conversions

✓

XML Output Module

Q2 '21

HTML Output Module

Q2 '21

QR/Bar code

✓
COLLABORATION TOOL

Transmittal management

add-on
INTEGRATIONS

3DEXPERIENCE® - OnPremise

✓

3DEXPERIENCE® - Public Cloud

✓

Windchill

TeamCenter

ARAS

Sharepoint

✓

Box

MS Teams

OneNote

Slack

3DDrive

Dropbox
COLLABORATION TOOL
USER EXPERIENCE

Any environment

✓

Out-of-the-box Integration with most software

✓

Point-and-click interface

✓

Dashboard (User & Administrative)

✓

Modularized to fit your needs

BUSINESS TOOL FEATURES

Convert any file type

OCR functionality

Multi-document merging

Relationship traversal

Embedded file conversions

Print individual or batch

Document splitting

Document compression

PDF user navigation features

COMPLIANCE TOOL FEATURES

Dynamic stamping

Digital signatures

Electronic signatures

Certificate management

ADDITIONAL COMPONENTS

Office Engine

AutoCAD Engine

CATIA® v5 & v6 Engine

NX Engine

Creo Engine

SOLIDWORKS® software

Model Based Design Module

Title Block Automation (SW & AC)

BOM management

Custom Document Creator

PDF/A Conversions

XML Output Module

HTML Output Module

QR/Bar code

COLLABORATION TOOL

Transmittal management

✓
INTEGRATIONS

3DEXPERIENCE® - OnPremise

3DEXPERIENCE® - Public Cloud

Windchill

TeamCenter

ARAS

Sharepoint

✓

Box

✓

MS Teams

Q1 '21

OneNote

Q1 '21

Slack

Q1 '21

3DDrive

Q1 '21

Dropbox

✓
MIX & MATCH
Modular Approach
Only buy what you need
Our purchase options are based on size and scope of the project. Our solutions are not intended as a per-user model but, rather are based on an implementation and volume. We offer subscription-based, term-based, or traditional models—depending on the environment (cloud or on-premise) of the product.
Ask about our purchasing options
Let's find the solution that's best suited to solve your business process challenges.